WALTER MOKOENA PICKS 'THE 20 GREATEST BAFANA BAFANA PLAYERS EVER!'
The 7th of July marks exactly 25 years since Bafana Bafana played their first international game in a 1-0 win against Cameroon at Kings Park in Durban, after almost two decades of international isolation. In commemoration of this important date, SABC Sports Presenter,Walter Mokoena, takes us through the 20 greatest Bafana Bafana players ever
1. Lucas Radebe,
survived bad injuries to play 70 times for the national. He was tough-as teak, a fearless and committed warrior. He also captained the national team at the 2002 Korea /Japan World Cup. Radebe, also captained Leeds United in England in the process cementing his legendary status.
2. Doctor Khumalo,
possibly the most celebrated player of his generation and real poster boy, was instrumental in the 1996 victory. A real Bafana Bafana legend, he amassed 50 caps and scored some vital goals .
3. Philemon " Chippa" Masinga,
is arguably one of the greatest strikers ever to don the Bafana Bafana colours, scored 18 precious in 58 appearances . Masinga will be remember for "that" amazing striker against Congo that too us to the France 1998 World Cup finals . He had a stellar career locally and abroad, notably playing in the English Premier and the Italian Seria A. The national team has never had another number 9 like him.
4. The late John " Shoes" Moshoeu,
was possibly the most talented player of his generation, quick feet, skilful and a very clever schemer. Played 73 times for Bafana Bafana scoring 8 goals. Also played for Turkish Giants Fenerbahce for 5 years. At his prime, he fell into world class talent category . He formed a formidable combination with Khumalo in midfield.
5. Mark Fish,
a fan favourite. Played 62 times for Bafana . He was great ball player, always wearing his heart on his sleeve. A top class international centre-back. Scored a great  sliding goal against Algeria on the way to lifting the Afcon.

6. Benni McCarthy
possibly the most decorated South African player on the international stage. The only South African player to win the UEFA Champions League with Portuguese Giants Porto in 2004. McCarthy had a sensational start to his Bafana Career on the big stage scoring four goals against Namibia at the 1998 Afcon finals announcing his name in some style, and went on to score on his first World Cup appearance in France against Denmark. Benni, for a while he was Country's all-time leading scorer with 32 in 89 matches. His only blemish was failing to be fit enough to earn selection for the 2010 FIFA World Cup .
7. David Nyathi,
strong, powerful and quick . Could attack and defend. Scored a great goal against Morocco in a hard fought victory at the 1998 Afcon. He played 45 games for the national team. Also had an impressive overseas Career and also made the World IX.
8.The late Sizwe Motuang,
was possibly the greatest full-back of his generation , full of running. Was a vital in the 1998 Afcon victory . He played 51 times for the national team, also played in Switzerland and Spain.
9. Shaun Bartlett,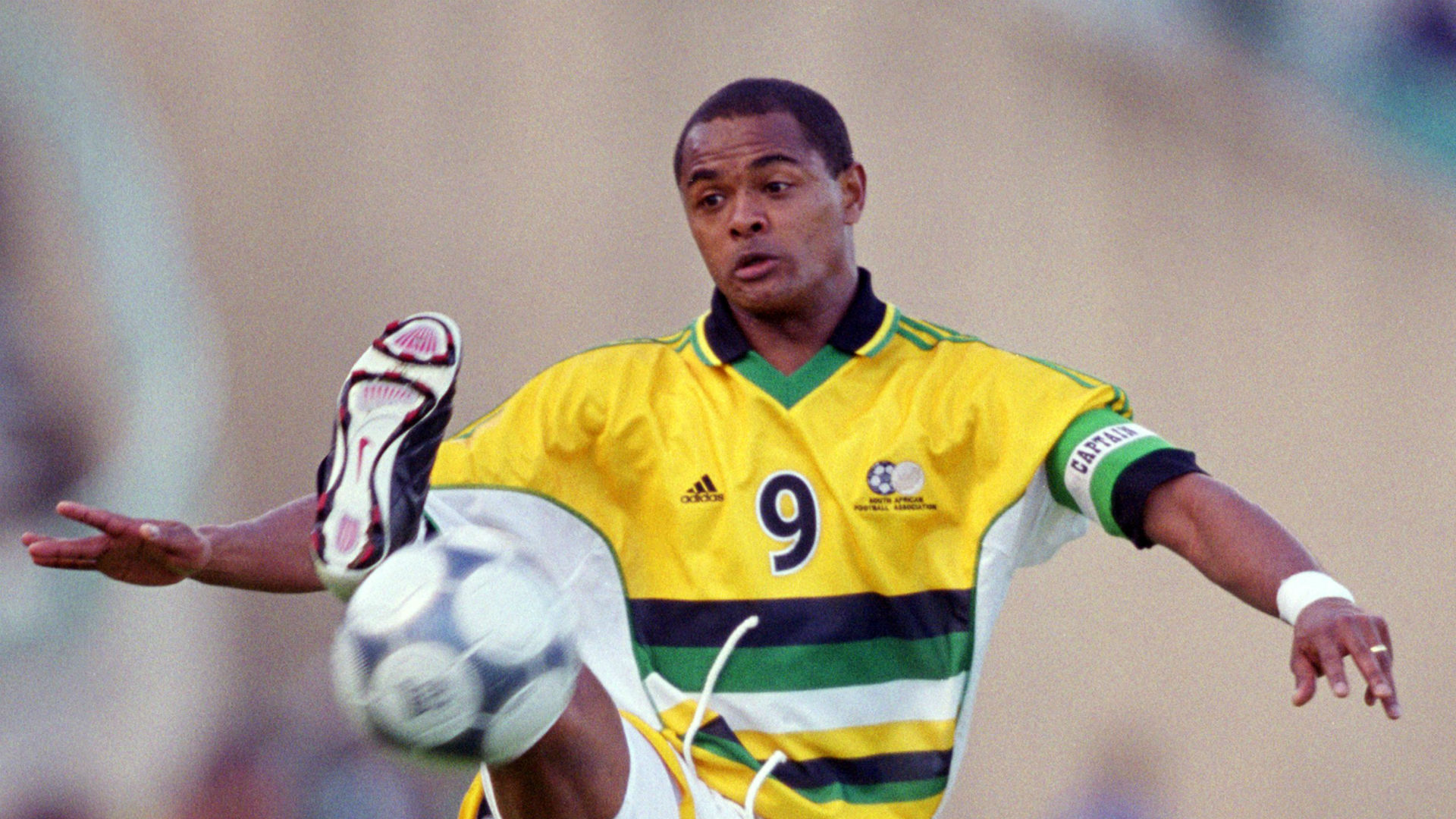 scored 28 goals in 74 appearances for the national team, an impressive scoring rate, many would remember him for his brace in the 3-0 win against the much fancied Ghana in the  1996 Afcon quarterfinals against Ghana. Had an impressive club career in Switzerland and England, a great header of the ball.
10. Andre Arendse,
spent almost a decade in the national team, was in goals in the 1996 triumph and went on to earn 67 caps, missed the 1998 World Cup due to injury, but came back to make the 2002 World Cup . Had a short stint with Fulham in the English premier League.
11.Linda Buthelezi,
affectionately referred at as "Mercedes Benz " . He was a no- nonsense, hard- tackling central midfield, even the English football darling at the time, Paul " Gazza " Gasgcoine came in for some rough-house treatment in 1997 at Old Trafford in an International friendly match . He had a wonderful techniques for a defensive midfielder. Him and Eric Tinkler were fantastic as holding midfielders freeing Khumalo and Moshoue to attack. He retired with only 27 caps for the national team.
12. Eric Tinkler,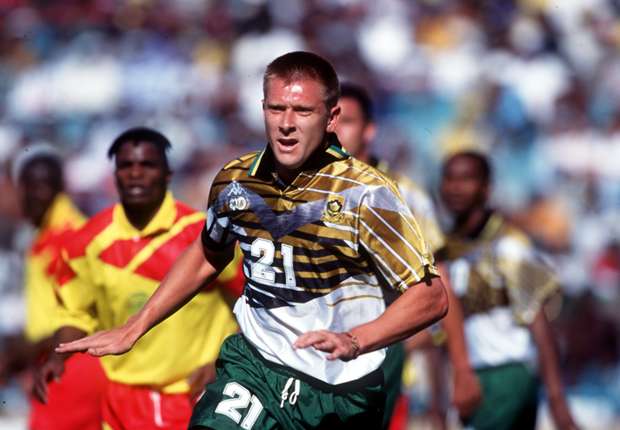 was A no frills defensive midfielder. Always committed with a biting tackle, he played 45 times for Bafana.
13. Aaron Mokoena,
replaced Lucas Radebe as Bafana Bafana captain and went on to earn a record 107 caps. Captained the team at the 2008 Afcon finals, 2009 Confederations cup and the 2010 FIFA World Cup on home soil. A great servant of South African football . He played in Holland, Belgium and England.
14. Neil Tovey,
he was captain 29 times out of the 52 matches he played for the national team. He was captain when Bafana won the Afcon in 1996. U sturdy influence at the back. What he lacked in pace he made up for with great anticipation and fantastic reading of the game.
15. Quinton Fortune,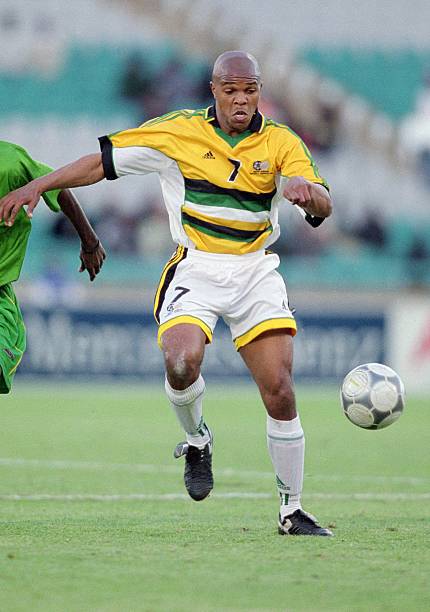 moved to Europe at the age of 14 to play for Tottenham Hotspur, and later turn out for Atletico Madrid before his dream move to Manchester United in 1999 where he spent 7 years, he played at the 1998 and 2002 World cups scoring twice in 46 appearances for Bafana.
16.Steven Pienaar,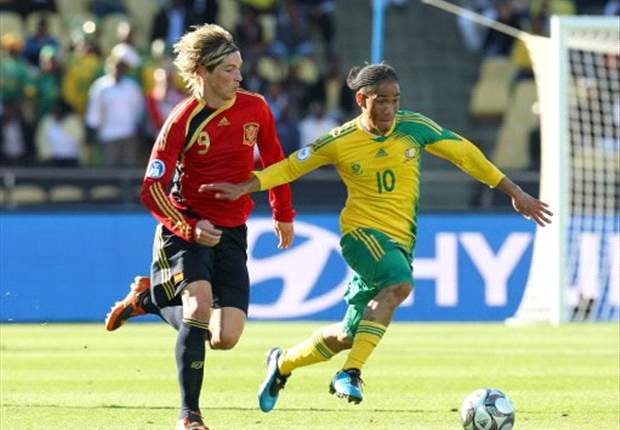 represented his country 62 times, he featured in two world cups in 2002 and 2010. Had a great career in Europe. Made his mark in the Dutch league with Ajax, before moving to Dortmund in Germany and eventually the English Premier League.

17. Mbulelo Mabizela,
became the youngest ever captain of the national team at the age of 22 in June 2003. He earned 45 caps, and made a North London Giants, Tottenham Hotspur, but his stay was cut shower due to issues of discipline. He had everything you needed in a modern top class player. Speed, power, skill and technique.
18. Siphiwe Tshabalala,
scored the historic opening goal for Bafana Bafana in the 2010 World Cup against Mexico. He played for Bafana Bafana 90 times scoring 12 goals .
19. Itumeleng Khune,
at 29 years he is already a Bafana veteran with over 70 caps. He kept goals during the 2009 Confederations  and the FIFA World Cups. At this rate barring injury reaching a century of Bafana caps is not beyond him.
20. Andile Jali,
was named in the preliminary 30 man squad for the 2010 World and missed out on the showpiece due to a reported heart condition . Jali is a great talent at only 26, he is by far the most talented player of his generation.